I work for an awesome educational technology company, Pearson and for the past year I've been creating iOS apps in Objective-C. It's been a great learning experience and I've been able to work on a number of awesome products. One caveat to working with such a large company is that you don't always see you're name in the credits when it comes to work that you've created (okay, you never see you're name in the credits).
So I figured I'd post my own "credits" for work I've done. Below are all the mobile apps I've created while working at Pearson.
Grammar Jammers: These apps were based on an existing prototype that other developers started and that I completed for production.

Vocabulary Central: I created these apps from the ground up as the only developer on the project.

Language Central: These apps are based off of the work I did on Vocabulary Central. Again, I was the only developer on this project.

SpeedGames: This one is one of my favorite projects. For this one I was given a prototype that was created by another developer and I re-did the app for production.

Unknown: These I can't really talk about as they aren't released yet, but you're looking at 20 apps that I created based on a previous prototype by another team of developers. Yes, I was the only developer on this project as well. 😀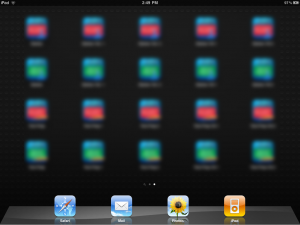 You're looking at a total of 34 apps created in Objective-C. Though I was the only developer working on these for final production, I did have my colleagues to rely on when I had challenges in development. But I am proud of the fact that I've created these apps and I figured I'd mention it here. (yes, humility is one of my strong points).
Of course I have created my own iOS app, and one that I'm very proud of, in fact I dare say this is the best app I've written, ever. And I created it with Flash CS5 back when we had the PFI (it's now all rolled into AIR 2.6 as you can see in my tutorials here).
What'd You Do?: This one is my favorite. I've even posted it as an Android app.