Simple QR Reader is a simple app that let's you scan and decode QR codes. Currently available for BlackBerry PlayBook, download the app for free and start reading QR codes!
Instructions:
1. Hold the camera close to the QR code, then press "Scan Now".
2. Saved QR codes will appear in the History list.
3. If you have trouble scanning a code, try moving closer or farther away to get a better scan.
4. QR codes that are blurry will be difficult to scan.
Here's the link to download the app:
Have fun and let me know what you think!
iBrent
P.S. Coming soon to iOS and Android
I work for an awesome educational technology company, Pearson and for the past year I've been creating iOS apps in Objective-C. It's been a great learning experience and I've been able to work on a number of awesome products. One caveat to working with such a large company is that you don't always see you're name in the credits when it comes to work that you've created (okay, you never see you're name in the credits).
So I figured I'd post my own "credits" for work I've done. Below are all the mobile apps I've created while working at Pearson.
Grammar Jammers: These apps were based on an existing prototype that other developers started and that I completed for production.

Vocabulary Central: I created these apps from the ground up as the only developer on the project.

Language Central: These apps are based off of the work I did on Vocabulary Central. Again, I was the only developer on this project.

SpeedGames: This one is one of my favorite projects. For this one I was given a prototype that was created by another developer and I re-did the app for production.

Unknown: These I can't really talk about as they aren't released yet, but you're looking at 20 apps that I created based on a previous prototype by another team of developers. Yes, I was the only developer on this project as well. 😀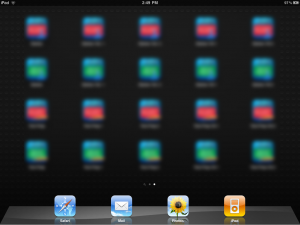 You're looking at a total of 34 apps created in Objective-C. Though I was the only developer working on these for final production, I did have my colleagues to rely on when I had challenges in development. But I am proud of the fact that I've created these apps and I figured I'd mention it here. (yes, humility is one of my strong points).
Of course I have created my own iOS app, and one that I'm very proud of, in fact I dare say this is the best app I've written, ever. And I created it with Flash CS5 back when we had the PFI (it's now all rolled into AIR 2.6 as you can see in my tutorials here).
What'd You Do?: This one is my favorite. I've even posted it as an Android app.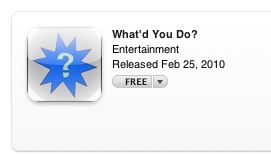 This is by far the best explanation of how to incorporate gaming techniques into education. I can see a lot of possible apps to help facilitate this. And I think the new mobile workflows in Flash CS5.5 and Flash Builder 4.5 would be the best way to deploy these app ideas across multiple devices. I think I even have a few tutorials on how to create mobile apps… 😉
So I've been cranking out my mobile workflow video tutorials like crazy these past two weeks. The plan is to cover everything I know about creating iOS, Android, and BlackBerry Playbook apps using Flash Professional CS5.5 and Flash Builder 4.5. I may even start an Objective-C tutorial series as well, seeing how I'm coding iOS apps at work. My list of tutorials keeps getting longer. At this point I've posted 24 new ones on my YouTube page here.
I've also posted all the project files that accompany the tutorials on the home page of my website here. Not every tutorial has a project file, though it should be pretty obvious which ones do. I try to post the files after I've uploaded the videos, but sometimes it takes a day for me to catch up. If you find something missing, let me know in the comments, and I'll see what I can do.
Enjoy!
— iBrent
=D
Earlier this month I had an awesome opportunity to present at 360Flex in Denver. I presented an all-day hands-on session on AIR for Android, using the newest version of Flash Builder 4.5.
The session went great and I got a lot of compliments. Thanks to everyone who attended my session, and big welcome to my new Twitter followers. I met a lot of cool new people, folks who are pillars in the Flex and Flash community. The best part of 360Flex was hearing from and hanging out with people from the Adobe Flex team.
A big thanks to John and Nicole Wilker for presenting the conference, and for having me there. It was the best developer conference I've been to outside of Adobe MAX. I highly recommend you attend next years event. I'll be sure to post about it when it comes around again.
With my session being an all-day event, instead of posting the slides and content, I figured I'd just create a series of video tutorials showing how to create content for Android devices using FB 4.5. I've already started the series and you can see it here.
— iBrent
It's almost time for Adobe MAX 2010. This is my first time attending, and my first time presenting there. I'll be discussing one of the hottest new topics – AIR for Android. It's so popular in fact, I'm giving the same session 3 times! 2 of the sessions are sold out and there are only 50 seats left for the Tuesday morning session. So, if you're going to MAX, be sure to sign-up! http://bit.ly/clLwiR
If you can't make it this year, be sure to sign up for the live streaming Keynote events –> MAX Online
Once MAX is over and I've calmed down from all the excitement, I'll be sure to post my session slides and demo assets.
See you in L.A. 😀
iBrent
Steve Jobs says Flash will crash my browser on my Mac. I grew up as a PC, but 3 years ago I switched to a Mac. In all that time, I've never had Flash crash my browser.
Here's a little "Public Service Announcement" I did showcasing my findings on Flash in the browser on a Mac.
You've been warned. 😉
iBrent
The other day Steve Jobs wrote an open letter on Apple.com, and listed his reasons for not supporting Flash on the iPhone OS devices (iPad/iPhone/iPod Touch). I'm not going to go into the many reasons why his opinion is extremely misinformed and that his posturing is purely political. But I do want to address this idea that HTML5 is the Flash alternative, and the only way to get the "full web experience".
Here is a video I did showcasing some of the best HTML5 website experiences I could find, all on the iPad.
UPDATE: Holy Viral Videos Batman! I posted this at midnight Friday night (April 30th) and it's already had over 20k views in two days!
As you can see, it's terrible. Non of the sites work as the developers intended. The graphics are a joke, the game play non existent, and the video experience laughable. Now, running on a desktop machine, these examples work better, IF you use a browser that supports all of the HTML5 tags being used.
Just for kicks, I recorded this video showcasing the same HTMl5 sites on a Nexus One.
Some apps run better, and some even worse! My point is, HTML5 does not give a consistent user experience across devices. It doesn't even give a consistent user experience across browsers!
Lucky for us, Android will be getting Flash Player 10.1 in June. Meanwhile, us developers (or is it we developers?) have to maintain multiple development environments in order to monetize our mobile apps across devices.
iBrent